Location, Infrastructure and Environment
Location
Termas El Corazón is located 87 km from Santiago and less than 150 km from Viña del Mar.
Nestled in the area of the Aconcagua Valley, in the Andean Cordillera, passing through the city of Los Andes and San Esteban, we arrive at the "The Affectionate Botado".
Here, it stands out for its quality, history and prestige, a different place next to the mountain and a great family tradition: "Termas El Corazón", place of rest and recuperation, that attracts visitors from different corners of the world.
Dr. Antonio Bianchini 2156,
San Esteban Los Andes.
+56 34 24366001 /
reservas@termaselcorazon.cl
Infrastructure
150,000 square meters of land, Termas El Corazón distributes its rooms, dining rooms, swimming pools and SPA.
Currently Termas El Corazón has 73 rooms with capacity to accommodate up to 170 people, all of them with thermal water. Our pools, the 3 with temperate water welcome our customers to enjoy the benefits of thermal water. We have 2 dining rooms to offer our Chilean, German and Italian cuisine to our customers. For our business clients, we have a modern Business Center and 7 conference rooms, the largest of them with a capacity for 300 people. All equipped with the most modern technology for our clients to develop their seminars and work events.
Hotel Termas El Corazón has a primary concern for the elderly and has all the necessary infrastructure to travel through different areas such as walkways, handrails, elevators and wheelchairs.
We always seek to provide a comprehensive service and meet the needs of our customers, so we also have a bar, reading room, nursery, internet wifi, a mini zoo, lagoon, tennis and baby soccer and a playground for children; all this in an environment of tranquility and nature.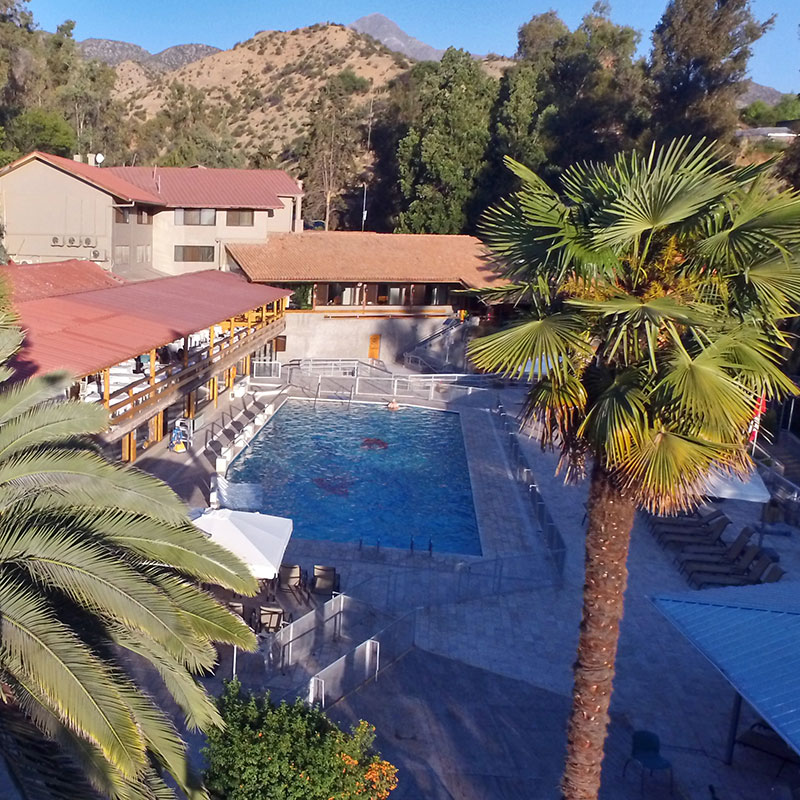 Environment
Termas El Corazón, has a unique natural environment in the Aconcagua Valley, wild vegetation and imposing mountains, with a microclimate that favors the preservation of the flora and fauna of the area. Receive its visitors with a beautiful mall, which changes colors according to the season of the year they visit us, opening the way to various fruit trees which can be easily seen at the edge of our lagoon. We have a small zoo and parks. Also for our visitors who wish to have a moment of reflection and prayer, they will find that space in the Grotto of Our Lady of Lourdes. We also have different trails and viewpoints so that our visitors can take walks and enjoying the beauty of their surroundings and practicing a healthy and healthy exercise.
Through the trails and gentle hills of our viewpoints, you will find majestic views of the Aconcagua Valley, accompanied by a rich flora typical of the area; with Espinos, Guayacanes, Quillayes and many bushes.
Depending on the time you make your walk, you can see many typical birds of the area.
We have designed the trails to be suitable for all ages and depending on their level they can perform 4 circuits of 1.2km, 3.4km, 4.5km and 5.8km.